News
Global Focus & Industry Leadership Third China International Silver Industry Exhibition Held in Guangzhou
2016.12.18
---
On November 13 2016, the third China International Silver Industry Exhibition concluded at the Guangzhou Poly World Trade Center. The exhibition was held over an area of 22,000sqm, with over 300 globally recognized senior care brands and enterprises in participation to welcome 32,916 visitors. On the successful foundations of previous two exhibitions, the third China International Silver Industry Exhibition continued to demonstrate leadership within the industry by facilitating in-depth integration of the advantageous resources of government, industry, and channels while bringing together globally leading silver industry products, technologies, and trends. The event showed forward-thinking concepts to push the industry toward new heights.
The Authoritative Silver Industry Event Created Optimal Commercial Results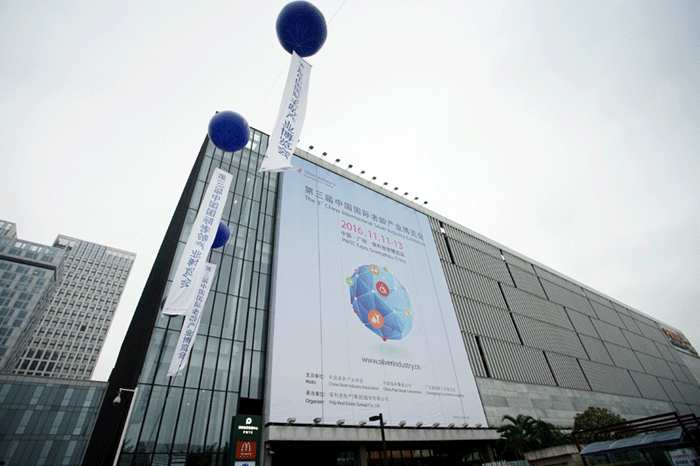 The scale of the most recent exhibition increased again, for the first time arranging five major exhibit areas, including one for foreign exhibition groups, barrier-free living, health-care, smart retirement, and healthy lifestyles. An in-depth deconstruction was achieved of the silver industry industrial chain, achieving comprehensive insight into the industry's market segments in terms of development trends and prospects. During the three-day exhibition, all globally leading senior care brands were present, doing their utmost to demonstrate for attendees the most innovative products, technologies, and industry trends. Each exhibition area was bustling with activities, and exhibitors got a lot out of the interactions, with impressive trade and cooperation results.
Director Diao Haifeng of the Publicity Department, National Office on Aging, noted that "The Fair is China's largest, most attended, and most international silver industry expo of highest level today. It brought together leading brands and enterprises within the silver industry, fully demonstrating the industry's products from senior care services and health-care to elderly environment, and truly representing a benchmark event for the industry."
TOTO China Region Supervisor Li Jin stated that "This year we participated in the Silver Expo for the third time. Over these three years, the scale, quality, and level of the exhibition have increased enormously. The exhibitors and product categories now provide full coverage across the industrial chain, platform construction is growing, and this is giving us an enormously beneficial opportunity to show our products and to seek out new clients. Moving forward, I am looking forward to continuing a long-term cooperation with the Silver Expo to develop China's silver industry."
Full House at Summit Focused on Industry Future Development
During the exhibition the 2016 China International Silver Industry Summit was held simultaneously with a theme of "Silver Industry – Commencing a New Era of Social Well Fare for Countless People". The events included over 20 specific forums, including a main forum, sub-forums, special forums, procurement match-ups, and others. These forums were attended by more than 80 industry elites, scholars, and experts from the US, France, Australia, Japan, Holland, Hong Kong, Taiwan, and Chinese mainland, with in-depth discussions held in relation to retirement operations, community services, talent training, senior housing, health care, and other multidimensional hot topics. Activities were wonderfully presented and well-received by industry colleagues. As part of this, the Second Australia-China Silver Industry Forum, Japan-China (Guangdong) Silver Industry Exchange, Senior Housing and Franchise Supermarket and Pharmacy Procurement Negotiation Conference, and other forums received enormous attention and helped to facilitate outstanding cooperation and exchange amongst attendees. The three-day exhibition attracted over 10,000 professional visitors from at home and abroad to join in the forums, together making the event an authoritative platform through which to hold a dialogue and exchange on issues concerning the silver industry.
Assemble of Global Buyers, Experiencing One-Stop Procurement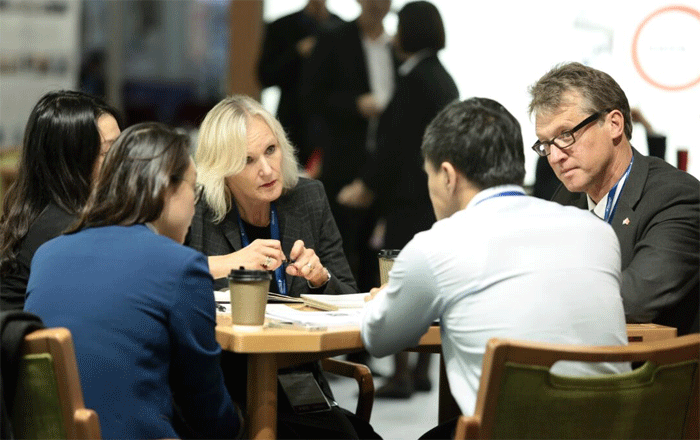 The Fair attracted multiple globally leading buyers to the site to engage in procurement thanks to the expo's impressive brand power and expansive exhibitor resources. At the event engaging in high-quality procurement initiatives were procurement alliances representing industries including senior housing, retirement institutions, rehabilitation institutions, hospital care, and finance and investment, together generating limitless business opportunities. Amongst the well-known businesses were R&F Properties, Henda, Vanke, Poly, and Yuexiu Property; CJKA, Australian Chinese Community Association, NEC, French Consulate Business Investment Office in Guangzhou, Hong Kong's Po Leung Kuk, and other overseas institutional buyers; Huichen Life, Taicheng Yiyuan, Yihe, Pacific Insurance, China Life Investment, and other institutions and enterprises; Sun Yat-Sen Memorial Hospital, Sun Yat-Sen University, Guangdong Provincial People's Hospital, Guangdong 39 Brain Hospital Rehabilitation Center, Guangdong Provincial Work Injury Rehabilitation Hospital, and other medical institutions; and China Real Estate Association Elderly Residence Committee, Advisory Committee for the Elderly in Hong Kong, the Guangdong Property Industry Association, Guangdong Provincial Association of Property Management, and other authoritative associations and institutional groups.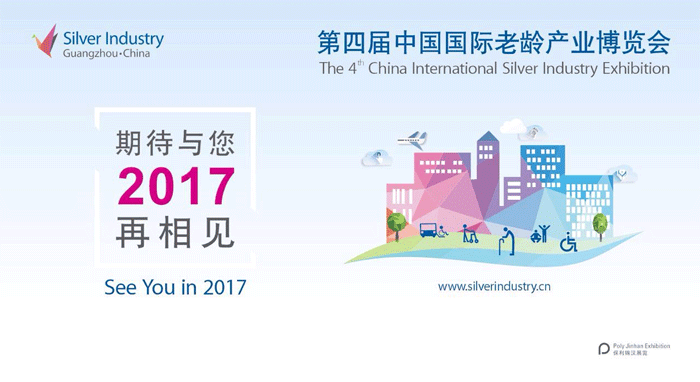 The third China International Silver Industry Exhibition demonstrated the latest trends and revolutionary technologies currently used and planned in the global silver industry, providing core momentum for future development within the industry and acting as a connection to international industry resources and a means to get the pulse of the market. Moving forward, the Fair will continue to provide a multifaceted, socialized and international industry development exchange platform to integrate the resources of global industrial chains both upstream and downstream while jointly formulating a blueprint for the future of the silver industry. We will look forward to seeing you in 2017!
< Back to list