News
New Era of Care & Rehabilitation Expo China 2017
2017.01.20
---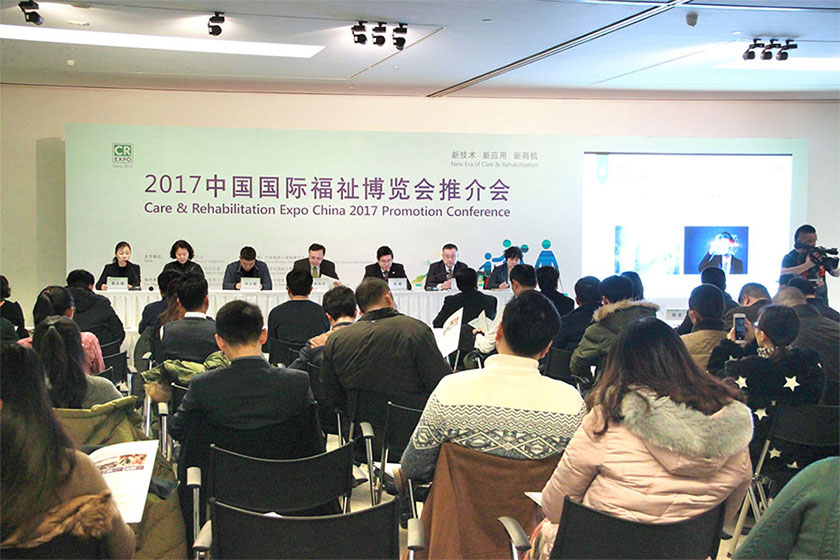 On 13 January 2017, the promotion conference of Care & Rehabilitation Expo China 2017 was successfully held in the New Poly Plaza in Beijing. Leaders including Liu Juncai, Vice General Manager of China Poly Group Corperation, Li Xi, Director of the China Assistive Devices and Technology Centre for Persons with Disabilities, Ou Ling, Party Member and Deputy Director of the Beijing Disabled Persons' Federation, Sun Liguo, Deputy Director of the General Office of Beijing Aging Committee and Fu Jun, Chairman of the Board of Supervisors of Poly Real Estate (Group) Co., Ltd and Chairman of the Board of Guangzhou Poly Jinhan Fair Co., Ltd. The conference was hosted by Feng Li, the Deputy Director of the Rehabilitation Department of China Disabled Persons' Federation.
Embassies, consulates and trade organization from nearly 10 countries and regions covering Australia, Japan, the US, France, England, Spain and Malaysia has come to the conference. Over 10 industrial and commercial associations including China Chamber of Commerce for Import and Export of Machinery and Electronic Products, China National Instruments Import and Export Corporation, China Associate of Assistive Products and China Electronic Chamber of Commerce, as well as over than 30 enterprise representatives including Ottobock, Sonova, KAIYANG GROUP and KANGHUI and news media like Xinhua and People's Daily were also present at the conference, with an total amount of over a hundred participants.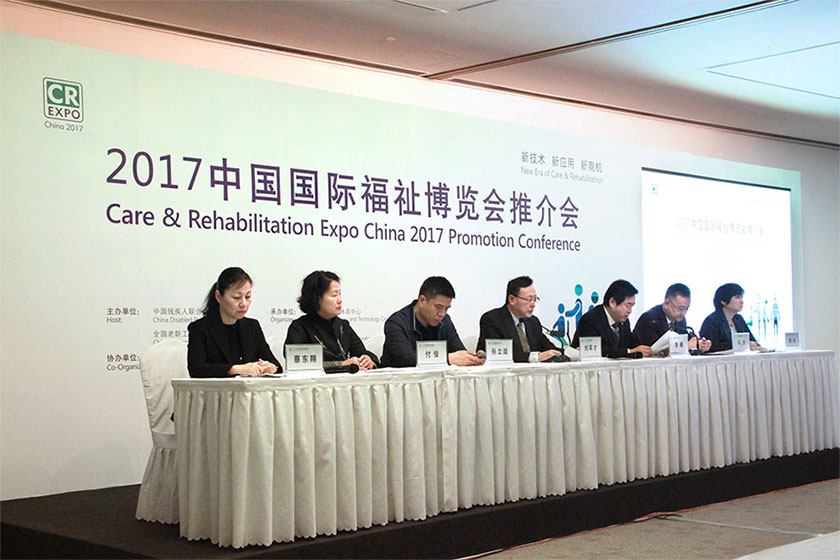 Liu Juncai, Vice General Manager of China Poly Group Corporation gave the welcoming address, in which he pointed out that China is the country with the largest number of people in need of auxiliary devices thus the development of the auxiliary device industry was of great significance to the nation and its people. As a central-governmental state-owned enterprise, the Poly Group has always carried its social responsibility and wish to make its contribution to the development of the industry by calling more social force to participate in the course, which will allow groups like the disabled, the elderly and the sick and wounded to share the achievements of development.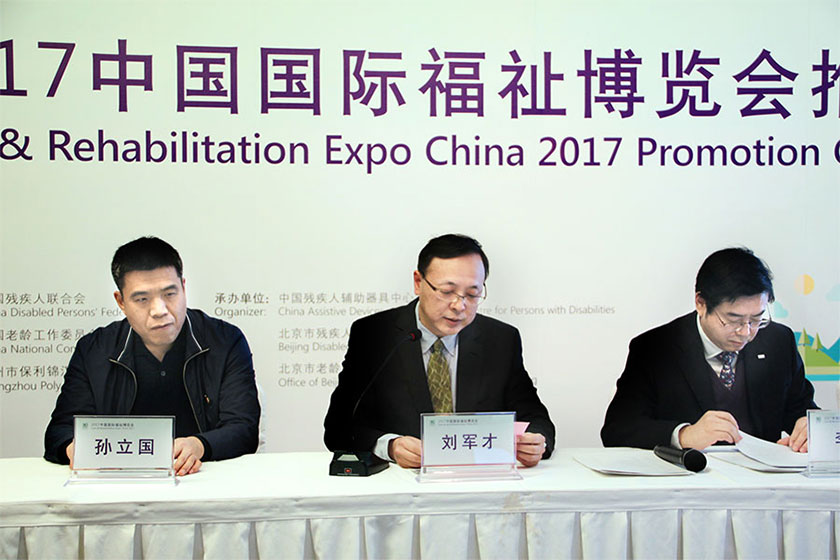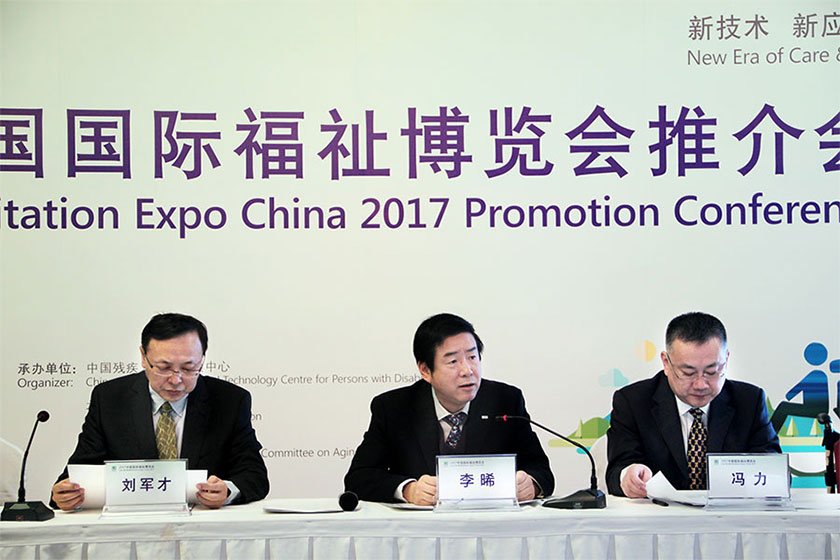 To boost up the development of auxiliary device industry does not only comply with the factual demand to raise people's living standard, but also satisfy the need of economic structural adjustment and structural reform of the supply side. The year 2017 will witness intense international cooperation and exchange activities concerning the course of the disabled. "The Belt and Road" Auxiliary Devices Industry Development Conference & The 2nd Global Auxiliary Devices Industry Development Conference will be held concurrently with the Care & Rehabilitation Expo China 2017 in September this year.
he China International Care & Rehabilitation Expo 2017 (the"Care & Rehabilitation Expo") is co-hosted by China Disabled Persons' Federation and China National Committee on Ageing, co-organized by China Assistive Devices and Technology Centre for Persons with Disabilities, Beijing Disabled Persons' Federation and Office of Beijing Municipal Working Committee on Ageing with the direct organizer being the Guangzhou Poly Jinhan Fair Co., Ltd. This expo will be held as at the China National Convention Center in Beijing from 13 to 15 September 2017. As the 3rd largest care and rehabilitation exhibition worldwide and the only fair exhibiting tools and products for disabled and the elderly in China, this expo will take "New Technology, New Application, New Opportunity "as its theme, covering an estimated exhibition area of around 20,000 square meters and attracting over 350 renowned enterprises to come and exhibit.
Guangzhou Poly Jinhan Exhibition Co., Ltd, hold by the Poly Real Estate Group, is a new co-organizer of this year's Care & Rehabilitation Expo. Being one of the earliest members in China to join the Union of International Fairs (UFI), Poly Jinhan maintains a record of exhibition area no less than 180,000 square meters each year and has rich experience in hosting large international expos, conferences and activities. Under the win-win cooperation between authority organizers and Poly as a state-owned central enterprise, this expo will introduce a professional exhibition organizing team to maximize our ability in convening care and rehabilitation industry resources all over the world, which will help enterprises to develop and boost their business opportunity.
Create new business opportunity by building up an effective procurement platform
Such an all-dimensional display of new technology and applications will certainly draw attention from buyers with various needs and demands. Thus, this expo will take full advantage of its great ability in integrating resources and attracting brands to find professional buyers in areas of auxiliary devices facilitating agencies, organizations of distributors, agents and franchisees, medical care and rehabilitation establishments as well as the elderly care industry to build up an interaction network of the care & rehabilitation industry linking producers, agents and end-users which will be beneficial for everyone, both suppliers and demanders, to get effective opportunities to cooperate.
Our new hosting group will make use of its strong global network in overseas promotion, deepening cooperation with other countries' embassies, consulates and business institutions in China. By creating international exhibition group and holding supportive trade matching activities, we will provide effective support for exhibitors to best expand their business and realize internationalization and will bring new business opportunities to the industry's international trade cooperation. Concurrent activities like theme forums, international conferences, trade matching, promotion conferences and product experiences will be intriguing as well.
The 11th Care & Rehabilitation Expo China has gone through ten-year's brand development and accumulation and now, with its prospective and international vision, has expanded its exhibition function and become an expo of authority in areas of rehabilitation and assistive devices in Asian region, helping more enterprises to grasp new business opportunities emerging from the new round of innovation and development in the care and rehabilitation industry!
< Back to list